"The aim is to create here in Britain a really hostile environment for illegal migration."
These were words of Theresa May whose vans had circulated around certain UK locations telling people that they were "on the radar". A cut-price immigration policy.
I recently engaged in conversation with a lady originating from Slovakia, employed in catering services. She had noticed my "Still European" T shirt and, in hushed tones, we spoke.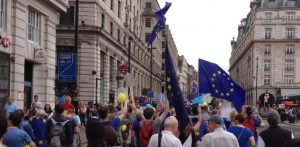 It was then that the very real face of the outcome of the referendum came to me. The effect of the cause that over 17 million people who voted to leave would not have contemplated, or wanted to see, save for the hardened bullies and sadists among them.
When they placed that paper in the ballot box, or posted their vote I suspect that very few of them gave thought to the misery that they would potentially create for people deserving of better.
I had previously heard mention of an incident local to me in which a foreign van driver had been subjected to vile abuse for having parked his van, temporarily blocking the closest route for his assailant back to his home for a matter of seconds whilst dropping off a parcel.
It was made clear to me that an element of the abuse was directed at his nationality; he was berated for not knowing the rules of "our" roads.
That apart, my own experience of intolerance in post-referendum Britain has been limited to hearing some racially discriminatory comments which may or may not have been made beforehand and which I always would have found offensive regardless.
My chat with the lady changed my perspective. I was concerned over prospective loss of my European cultural identity and possibly the right to retire or own property abroad. This was something else, however.
She confided in me (and hence she is anonymous) that she did not know what to do. Having worked in Britain continuously and successfully for a decade she had omitted to apply for citizenship due to the cost. However, when applying for promotions for which she was clearly competent she was thwarted by her name. Her employer was not prepared to plan their business operations around her, despite her abilities, experience, and near-perfect command of English. Apologetic head shakes.
Consequently she could not plan a family with her partner and found herself in a form of worldly purgatory.
Purgatory of the departed represented a kind of "holding area" for tortured souls whilst the powers-at-be determined ascent or descent of the soul.
In this case the torture was not only the lack of ability to plan and manage a life and relationship but also the suffering of significant levels of abuse post-referendum from customers; the feeling of helplessness heightened by the perceived inability to seek address and redress due to fears and anxieties instinctively natural for a vulnerable "outsider" to feel. I felt ashamed and a little tearful.
I am not going to repeat verbatim the terms of the abuse save for saying that it was stated to be directed often at her gender and invariably at her nationality (ironically, the abusers generally failed to correctly identify the latter, simply assuming that she was "Polish").
If Mrs May's aim was to create "here in Britain a really hostile environment for illegal migration" then it appears that she, with the assistance of others, has surpassed herself.
Her successor Home Secretary declared at the Conservative Party Conference in Autumn 2016:
"We are ready to take on the challenges and tackle any threats we face at home …
So that all people across our country have the certainty of safety and security …
And can get on with their lives in a Britain that truly works for everyone …"
All people?
Marc Folgate, 21 February 2017