641 days after the referendum and one year to go until the United Kingdom leaves the European Union. Mrs May embarks today on a tour of the nation to summon up the Brexit spirit. To seek to align the divisions. Strange that she should do so given that when she called the 2017 election this was because the country had come together in all things Brexit, unlike Westminster. How wrong she was. Taming Westminster has been the easiest of tasks, save for that of getting the state broadcaster on message. No meaningful opposition to her triggering Article 50 and practically none to the so-called great repeal legislation.
But what about the country?
The nation has never been so divided along so many lines. It reads like a Saturday fixture list.
Older -v- Younger
Scotland -v- England
Catholics -v- Protestants
London -v- The Provinces
Country -v- Town
Educated at university -v- University of life
Travelled -v- Stayed at home
Linguists -v- Anglophones
Tabloid readers -v- Tabloid haters
Commonwealth -v- Continental
Elite -v- Downtrodden
Expertise -v- Instinct
Extremist -v- Centrist
It is hard to imagine that a whistle-stop tour around the country can do anything meaningful to heal the rifts and May is not the right person to do so. There is an insufficient arms-length distance between the Cameron government which promised a referendum to appease the "said-by Major-to-be-illegitimate" back benchers and May's present bunch. This places her in a conflict position.
Does she do what is right for the country or does she continue to act in a manner detrimental to the nation but convenient for burying the reckless promise made by her colleague?
She called an election which backfired spectacularly. Her authority is fundamentally damaged, not least due to her bad judgement call and the cynical steps she had to take to preserve her tenure to the exclusive benefit of one part of the nation.
The country has plodded on, half in and half out. As the Prime Minister of Luxembourg remarked, the UK used to want in with as many opt-outs as it could obtain and now wants out with as many opt-ins.
There is one certainty. As time has passed people are beginning to appreciate the complexity of the question which David Cameron allowed them to answer in June 2016. A decision which they were singularly ill-qualified to answer.
If you are a Remainer with a degree of foresight then your instinct that Brexit was a catastrophe will have been proven to be right, notwithstanding the aversion of a complete currency crash and a recession (for the time being).
Remainers have done expertise to death. The forecasts, the studies, the warnings of the professionals, the financial, the judicial.
However, there is now at the fingertips of the Remain campaign an emotional element of which it previously could not take advantage. Brexit is beginning to smell a bit and those associated with it will assume its fingerprint. The attempts to rationalise by means of fact-based debate have met a largely glazed-over audience. But this is different.
Everybody likes to be a bargain hunter, a detective, a savvy consumer. Nobody likes to be thought of as lacking instinct; vision easily obscured by wool over the eyes.
Oh for the sort of instinct and intuition that means you avoid being sold the bruised apples under the counter, or the car made of two halves welded together. The same that allows a viewer to say "it was the vicar" at the earliest opportunity and beam with pride at having sussed it out, good and early; way before the clues made the solution easy.
Four million people signed a petition after the referendum. Those people will not have been converted to the Brexit cause but neither will they all have gone on to become campaigners and activists. They managed, however, to smell the Brexit rat. To suss out the Brexit confidence trick. Good and early.
One of the Remain adverts featured a poster with a picture of four proponents of Brexit and the words "We are better than this". It was particularly effective in its "gut reaction" simplicity.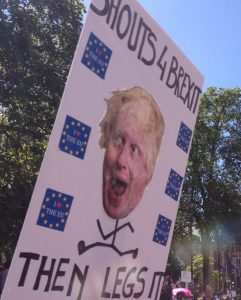 NIGEL FARAGE Good Morning Britain Jeremy Corbyn TURKISH ACCESSION £350 million That look on Johnson's face PRIME MINISTERIAL RESIGNATION Enemies of the People BETTING ON THE RESULT Rupert Murdoch Michael Gove DONALD TRUMP Shame on you Boris Hillary Clinton Cyber warfare INTERFERENCE Trump Towers Ecuador Register of foreign workers Jared Kushner MISTER BREXIT Paul Dacre BREXIT MEANS BREXIT strong and stable Arlene Foster The Sun JACOB REES-MOGG smooth & orderly IMPACT STUDIES Select Committee DAVID DAVIS Position Papers Embassy visit America First TRANSATLANTIC BRIDGE Overspending Whistle blower SOCIAL MEDIA UKIP leadership elections fishing quotas BRIDGE ACROSS THE CHANNEL SUBVERSION Frictionless Trade Deep & meaningful ISOLATION vulnerability PARTNERSHIP inflation Paul Manafort blue passports DROP IN STERLING Carillion NHS vacancies VOTE LEAVE BeLeave Funding ELECTORAL COMMISSION cheating WILL OF THE PEOPLE manipulation Targeted advertising BUSINESS VISITS ON HOLIDAY Off shore trusts TAX AVOIDANCE Panama Papers UNPATRIOTIC The Daily Express SINGAPORE Protest vote Question Time Radio host G8 rankings OUTING Cambridge Analytica BBC GUEST Troll Factory LEGATUM #RoadtoBrexit 1922 Committee DUP exact same benefits WE ARE LEAVING 2019 Directive IMPLEMENTATION IDS Robert Mueller investigation 5-star Marine Le Pen Geert Wilders The people have spoken Meaningful vote TRADE DEALS Steel tariffs DONE & DUSTED Foreign secretary JOHN REDWOOD financial advice Kate Hoey GOOD FRIDAY AGREEMENT Dublin base Wetherspoons REDUCED MAJORITY Andrea Leadsom BILL CASH easiest trade deal in history Liam Fox BREXIT BONUS Belfast regulatory alignment HARD BORDER Penny Mordaunt AUSTRIAN HUB Nadine Dorries Food banks UPLIFTING Brexit Central Paul Nuttall Donors Fish stunt Bankruptcy Court WTO Very French World War Two punishment Deal or no deal GLOBAL BRITAIN Vacuum cleaners PRODUCTION TRANSFERRED Frankfurt Office SOVEREIGN Lords Reform DELIVERING BREXIT freedom of movement JOBS FIRST BREXIT single market PRITI PATEL environmental Brexit A Customs Union The Customs Union Travel Visa RED, WHITE & BLUE BREXIT Leaked papers every sector POOREST AREAS voted leave EXPERTS HARDEST HIT Hate crimes POLISH PLUMBERS produce rotting LOSS OF INFLUENCE at the table GARDEN BRIDGE Doomed Eurozone CONFIDENCE Gisela Stuart UNCERTAINTY respect the decision VOTED TO BECOME POORER place at the table IVAN RODGERS resigns Mark Carney intervenes Money Laundering Dependent territories LONDON passporting Human Rights Act Votes for prisoners Misleading Parliament Europe's capital CANADA Daily Mail SEXTUS South Korea Daniel Hannan PETER BONE Brexiteers When we leave WE ARE LEAVING THE EUROPEAN UNION  not a day later NOT A MINUTE LONGER Guardian investigation TRANSITION PERIOD implementation "That was a mistake".