Earlier this year I made a decision to explore and possibly restore my receding hairline. I had been feeling ill-at-ease with the mirrored image in the hotel reception in Lille on a particularly windy day. The wind tends to howl past the International Station.
My forehead would often find itself red and sore on holidays, my face mainly weathered but partly baby pink.
A trip down to Harley Street on a dank day had caused me to maybe commit to it as it appeared that I was a suitable candidate for a transplant.
Will there be blood?
Perhaps the most ridiculous question I asked of the youthful and gingerly hirsute Icelandic man who checked my scalp elasticity.
"This is a surgical procedure."
I think that means "yes".
If I went to have the same treatment at their clinic in Spain there would be a saving of £1,000 although I would have to fund the flights.
At first I prevaricated. Would the surgeon be GMC registered? Would he be insured if anything went wrong?
I realised that I was displaying that most British of traits. The belief that a British surgeon and clinic would somehow provide a superior service and a better result.
A brief research exercise was required.
"If you're going to have a hair transplant the best advice I can give is for you to get straight to the Eurostar terminal or an airport and get the hell out of the country to mainland Europe or North America"
A pretty straightforward, if not brutal assessment given on a help site for the follicularly-challenged.
I even asked a Consultant Trichologist (hair expert) who recommended someone in the UK. The comments I read on the internet quickly ended that line of further enquiry.
The surgeon I was to be operated on by in Spain transpired to be a she, so there was another misconception banished; and she was German but had lived in Spain having moved to find the sun a decade or more previously.
I nervously set off for Stansted, via Cambridge. I spoke to a Spanish lady at the bus stop. The X5 was nearly an hour late due to an accident. I didn't tell her that I was off to her nation of origin to have a hair transplant. A Romanian lady at the hotel checked me in with a smile and one of her compatriots took my food order.
Early night required. Long day tomorrow.
My self-imposed ban on Wetherspoons was not an issue at Stansted. I was nil alcohol by mouth anyway.
After the Irish and Spanish crew got me safely to Málaga I settled in at the hotel booked for me, having had an impromptu Spanish/English cross-tuition with an Argentine taxi driver who had once been to England but struggled with the roundabouts being the wrong way round.
The booking was in my name through the clinic. Did the receptionist take a glance at my hairline? Or was that my imagination?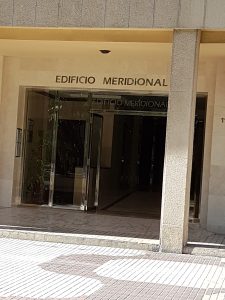 I paid a visit to the clinic, taking care not to burn the bald bits on my forehead, thanks to the ridiculous Yankee Doodle Dandy baseball cap which I had dragged from the back of the cupboard. I knew it would be good for something one day. I had submitted myself to something ridiculous and by that stage personal appearance had well and truly taken a running jump.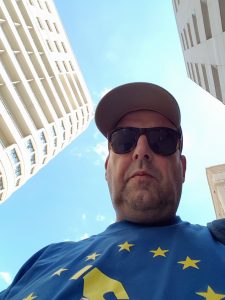 Early night required. Long day tomorrow.
A long day it was indeed. In at 0845 to be welcomed with a valium, some antibiotics and anti-inflammatories.
I was having an FUT procedure.
"You do know the difference between the two procedures?"
What I am having is more invasive but the results are said to be better.
A look and a shrug to suggest maybe not. But it is more expensive. What to do? The FUE doesn't involve being scalped Red Indian style. There's enough in the bank. I could come back again and have a couple of days in Málaga, taking in the weather and a few San Miguels.
"Just take the valium…".
Gowned and on the operating trolley I try not to look at the tools of the trade.
"What do you want to watch on the television?"
Oh Lord, no. I can see what's happening in the reflection.
Valium is quite effective.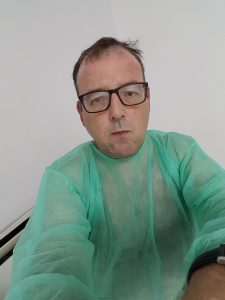 As the swabs soaked up my claret I ended up laughing nervously at the antics of Hammond, May and the one-time object of my bile Clarkson. They may be staging a pile up and inferno but I'm having a hair transplant. Against my expectations Clarkson is a remainer, so he can't be that bad after all. It must have been stress or illness to have caused him to hit that Irish chap.
For seemingly hours on end I had holes made in the hitherto-liable-to-be-sunburned bits which were then plugged with my own hair follicles. One of the very worst things about a little knowledge of a language is the ability to understand (but maybe misinterpret). I was having a bleeding issue. A bleeding big issue.
"Oh, mucho sangre…".
My surgeon failed to allay my concerns entirely as she gave me an adrenalin injection to stem the bleeding and the blood-stained white surgical gloves of the Spanish team inserting the grafts in my peripheral vision did not assist either.
"Your ear is filling up with blood…".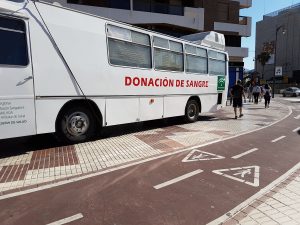 The anaesthetic was wearing off but it's amazing how fear takes the edge off it.
At 1830 I departed for the hotel feeling like a stuck pig. I had looked at my head in the surgeon's mirror.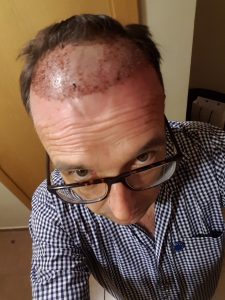 Somehow she seemed to think that it had gone very well. With 3-6 months to wait for the result we shall see. I'll let you know.
Brexit is never very far from my mind. As I looked across the Andalucian skyline from the airport I realised that I had experienced yet another European adventure. In the hands of European experts, at the end of the Continent where the road signs start to appear in Arabic.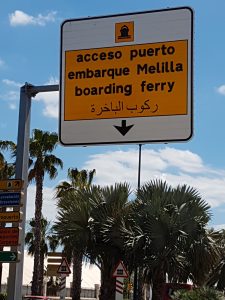 As I checked out with my cap the receptionist said that everything was in order. If only.